COVID PROTOCOL APPLIES FOR ALL GAMES AT THE CLUB - Click here
LUNCH BREAK PROTOCOL FOR ALL-DAY COMPETITIONS - Click here 
  CLUB CLOSED - ALL GAMES ONLINE until further notice
BERMUDA ONLINE INVITATIONAL 23-27 JANUARY 
ONLINE GAME SCHEDULE FROM
 5 JANUARY 2021

 
Monday @ 2.00 pm - Open Game 
Tuesday @ 7.00 pm - 149er Newcomer/Junior Game 
Wednesday @ 9.30 am - Open Game
Thursday @ 7.30 pm - Open Game 
Friday @ 2.00 pm - Open Game 
Saturday @ 2.00 pm - 499er Intermediate Game
Congratulations to those with Over 70% Games
Welcome to the Bermuda Bridge Club Website
We are a members' club and the principal bridge club on our beautiful island.   We run an open, stratified duplicate game on Monday afternoon, Wednesday morning, Thursday evening and Friday afternoon.
Junior Teams Champions 2019
Congratulations to the team of Samantha Pickering, Marion Silver, Jane Gregory and Nick Kempe, winners of the Junior Teams title for 2019. They won by just 4 IMPs over the student team of Shane Kruger, Brett Baumgartner, Gareth Cooper and Max Santiago, who were steadily closing the gap but just failed in the last round to catch up and overtake the leaders. In third place was the team made up of Joanne and Mike Dawson, Mark Stevens and Malcolm Moseley. !0 teams took part over the two evenings - with a lot of our newer members having their first experience of teams. Everyone won at least one of their eight matches. Well done.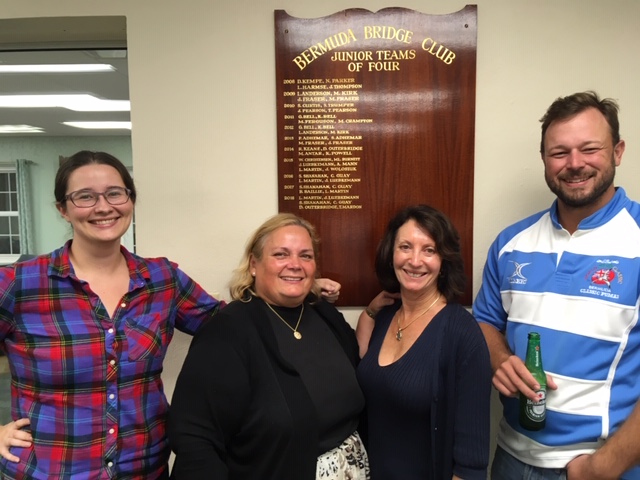 2019 Open Pairs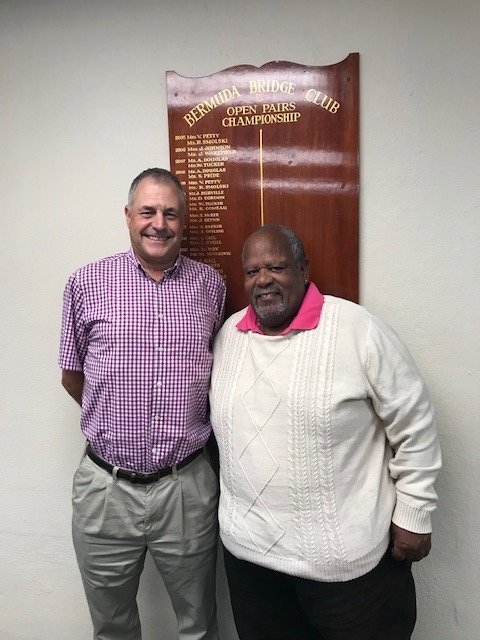 The 2019 Open Pairs took place on Saturday 2nd November with a 2 session event. 16 pairs participated.
Congratulations to the winners, Alan Douglas and David Sykes and well done to Marge Way and Misha Novakovic, who came second and Tony Sauanders and Charles Hall, who came third.
2019 Bermuda Sectional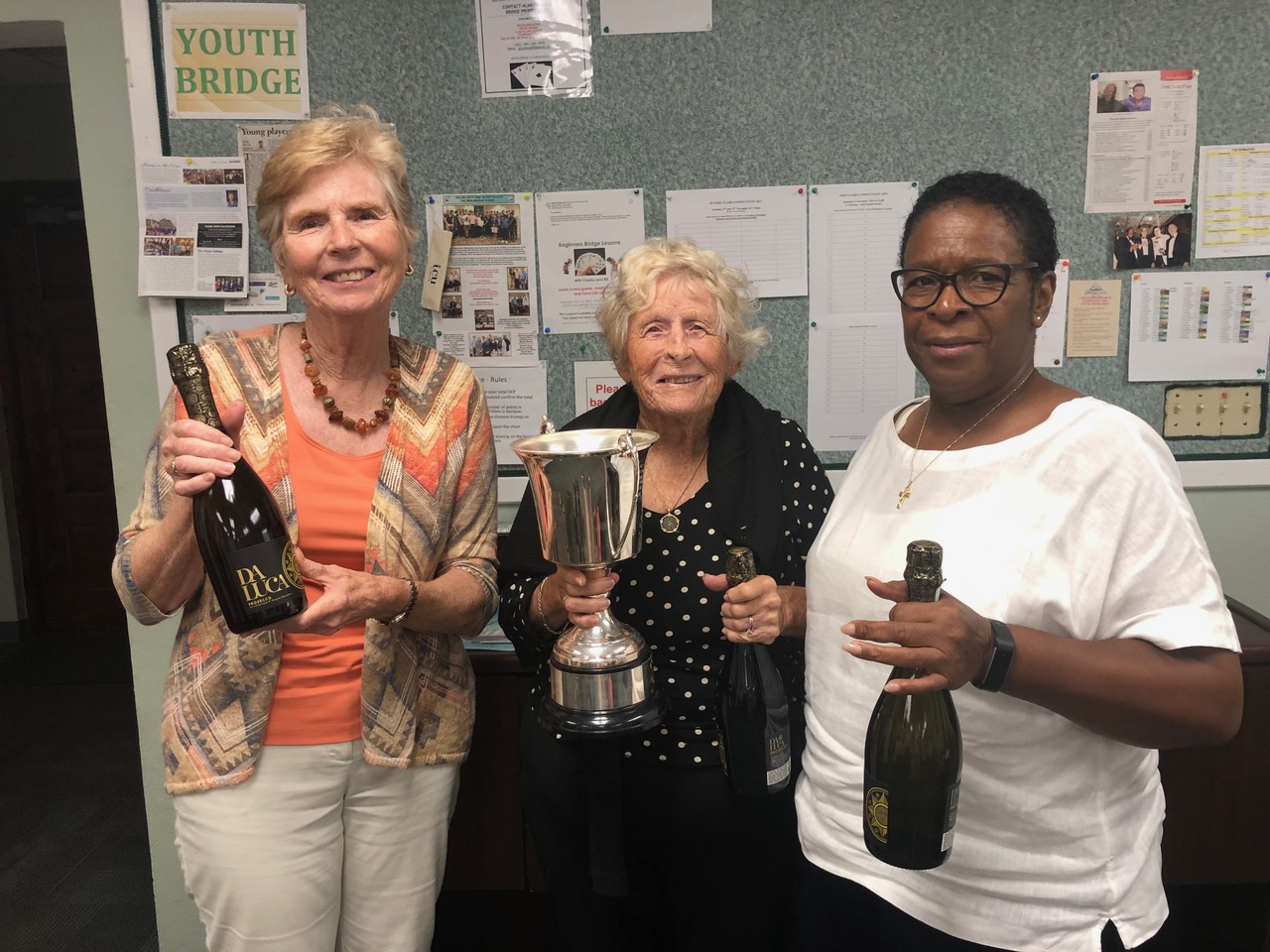 The 2019 Bermuda Sectional was held at the Club from 11-14 October. Congratulations to Margie Way (centre), winner of the Robert Todd Adventures in Bridge trophy for the player gaining most masterpoints in the Sectional, along with the masterpoint winners in the B and C strata - Lynanne Bolton (left) and Lorna Anderson (right).
Happy Birthday Gertie