COVID PROTOCOL APPLIES FOR ALL GAMES AT THE CLUB - Click here
LUNCH BREAK PROTOCOL FOR ALL-DAY COMPETITIONS - Click here 
  CLUB CLOSED - ALL GAMES ONLINE until further notice
BERMUDA ONLINE INVITATIONAL 23-27 JANUARY 
ONLINE GAME SCHEDULE FROM
 5 JANUARY 2021

 
Monday @ 2.00 pm - Open Game 
Tuesday @ 7.00 pm - 149er Newcomer/Junior Game 
Wednesday @ 9.30 am - Open Game
Thursday @ 7.30 pm - Open Game 
Friday @ 2.00 pm - Open Game 
Saturday @ 2.00 pm - 499er Intermediate Game
Congratulations to those with Over 70% Games
Welcome to the Bermuda Bridge Club Website
We are a members' club and the principal bridge club on our beautiful island.   We run an open, stratified duplicate game on Monday afternoon, Wednesday morning, Thursday evening and Friday afternoon.
NON LIFE MASTERS CHAMPIONS 2020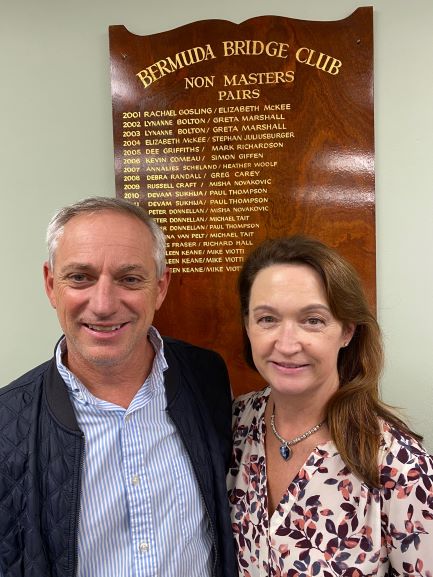 Congratulations to Claude Guay and Sharon Shanahan, our 2020 Non Life Masters champions. A very tight finish, with George Correia and Inger Mesna just one match point behind, and Des and Tracy Nash close on their heels in third place. 11 pairs competed through the two sessions, all fully masked - but we allowed the winners to emerge for the photo socially distanced from the rest of us as a special treat!
Junior Teams Champions 2020
Congratulations to the team of Malcolm Moselely, Mark Stevens, Jane Gregory and Wenda Krupp, winners of the Junior Teams title for 2020. Runners up were Jo-Ann Dawson, Julia Cook, Sharon Andrews, Carol Eastham and Nikki Boyce, with the team of Tim Mardon, Jean Schilling, Stuart Clare and Sarah Bowers in third place. Held over two Tuesday evenings, eight teams entered, several comprised of players who have only recently graduated from the Introductory Lessons - well done to all of them.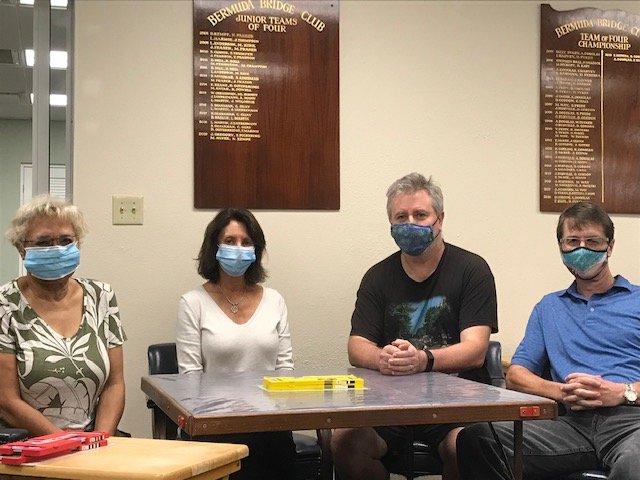 Open Pairs Champions
Congratulations to Charles Hall and David Sykes, Open Pairs Champions for 2020. After winning the first session, they maintained their good form taking joint second place in the afternoon match, ensuring their overall win. They achieved a two board margin over runners up Bill and Linda Pollett (second in the morning and joint second in the afternoon) and Margie Way and Misha Novakovic who placed third. This was the first major event since the Club re-opened and thanks to all fourteen competing pairs for making the championship so successful while ensuring that we continued to remain safe at our Club through a long day of bridge.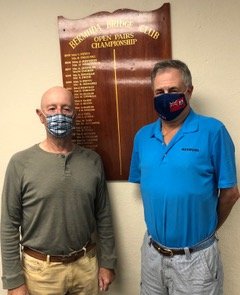 Happy 90th Birthday Diana
At the Wednesday 4th November morning game, we all celebrated Diana Diel's 90th Birthday (in line with Covid protocols of course, which meant no cake, no candles and no Happy Birthday chorus!).