All Games ONLINE until further notice (see schedule below)
SATURDAY 17 APRIL @ 2.00 pm - 499er Game 
SUNDAY 18 APRIL @ 2.00 pm - Open Game
ONLINE GAME SCHEDULE FROM
 21 March 2021

 
Monday @ 2.00 pm - Open Game 
Tuesday @ 7.00 pm - 149er Newcomer/Junior Game
Wednesday @ 9.30 am - Open Game 
Thursday @ 7.30 pm - Open Game 
Friday @ 2.00 pm - Open Game 
Congratulations to those with Over 70% Games
COVID PROTOCOL APPLIES FOR ALL GAMES AT THE CLUB - Click here
LUNCH BREAK PROTOCOL FOR ALL-DAY COMPETITIONS - Click here 
Welcome to the Bermuda Bridge Club Website
We are a members' club and the principal bridge club on our beautiful island.   We run an open, stratified duplicate game on Monday afternoon, Wednesday morning, Thursday evening and Friday afternoon.
Open Pairs Champions
Congratulations to Charles Hall and David Sykes, Open Pairs Champions for 2020. After winning the first session, they maintained their good form taking joint second place in the afternoon match, ensuring their overall win. They achieved a two board margin over runners up Bill and Linda Pollett (second in the morning and joint second in the afternoon) and Margie Way and Misha Novakovic who placed third. This was the first major event since the Club re-opened and thanks to all fourteen competing pairs for making the championship so successful while ensuring that we continued to remain safe at our Club through a long day of bridge.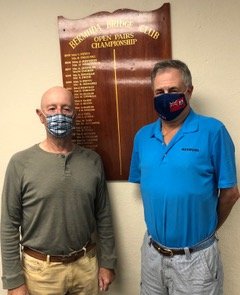 Happy 90th Birthday Diana
At the Wednesday 4th November morning game, we all celebrated Diana Diel's 90th Birthday (in line with Covid protocols of course, which meant no cake, no candles and no Happy Birthday chorus!).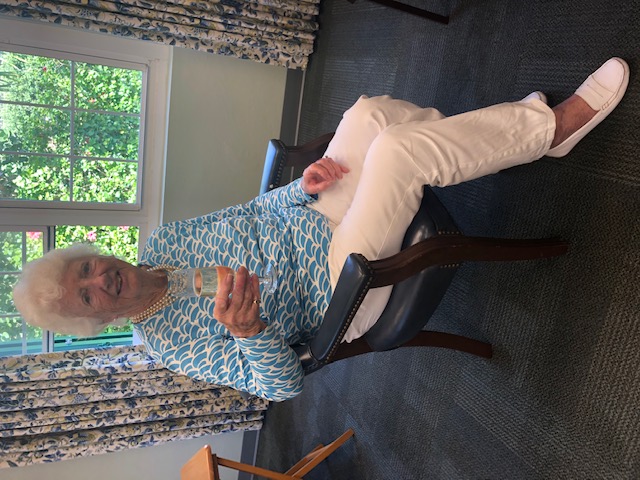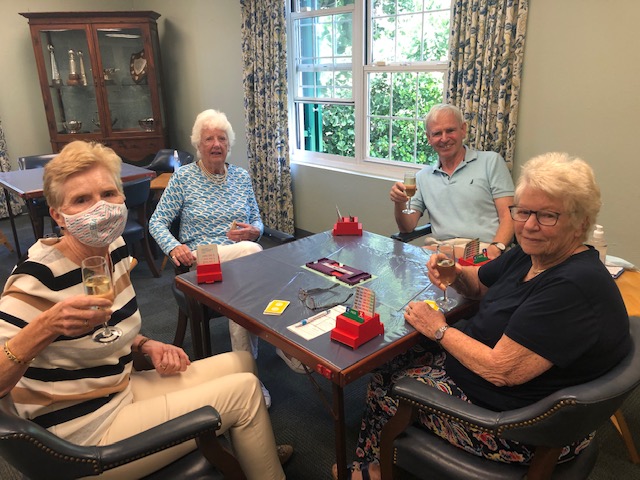 Well Done Dorry
Congratulations to Dorry Lusher, featured below on her 90th birthday, who came back to the Club on Monday 19th October, after not having played at all since the Club closed on 13 March, and came in 1st in the East/West Section!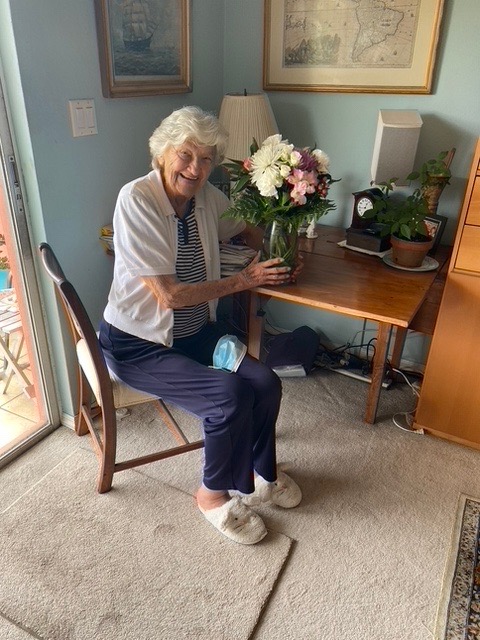 1st game back!
Well, we did it!
The Club opened up again Wednesday morning 2nd September and we were able to have a seven and half table game. We kept to the rules, the masks on/masks off worked well and everyone seemed very comfortable. It was good to see people again and to chat at the table - hopefully some of you who did not come will give it a go next Wednesday!