COVID PROTOCOL APPLIES FOR ALL GAMES AT THE CLUB - Click here
LUNCH BREAK PROTOCOL FOR ALL-DAY COMPETITIONS - Click here 
  CLUB CLOSED - ALL GAMES ONLINE until further notice
BERMUDA ONLINE INVITATIONAL 23-27 JANUARY 
ONLINE GAME SCHEDULE FROM
 5 JANUARY 2021

 
Monday @ 2.00 pm - Open Game 
Tuesday @ 7.00 pm - 149er Newcomer/Junior Game 
Wednesday @ 9.30 am - Open Game
Thursday @ 7.30 pm - Open Game 
Friday @ 2.00 pm - Open Game 
Saturday @ 2.00 pm - 499er Intermediate Game
Congratulations to those with Over 70% Games
Welcome to the Bermuda Bridge Club Website
We are a members' club and the principal bridge club on our beautiful island.   We run an open, stratified duplicate game on Monday afternoon, Wednesday morning, Thursday evening and Friday afternoon.
Taking Team Spirit to the next level!
Diana and Heather taking Team Spirit to the next level with their matching dresses! And they also won that night at Granaway!!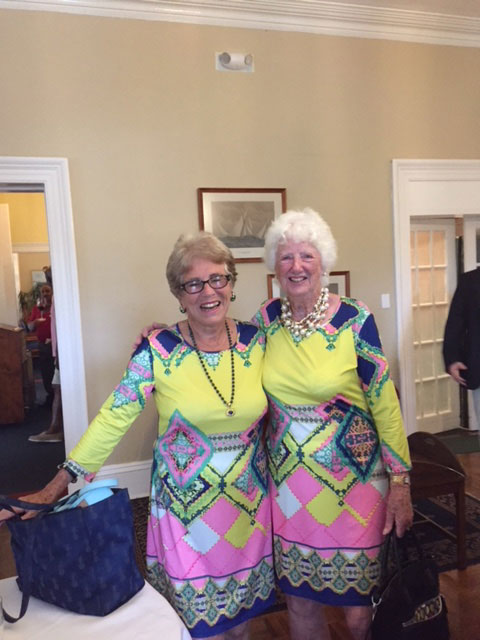 Non Life Masters Championship 2018
12 pairs competed for the 2018 Non Life Masters title. Defending champions Kathy Keane and Mike Viotti got away to a strong start, pulling away from the field and winning the first session comfortably, but a strong fightback in the afternoon by a number of pairs including Ellen Davidson and Tyler Irby (a relative newcomer through the schools programme) brought us to the last two board round with less than 3 matchpoints separating the first and fourth places.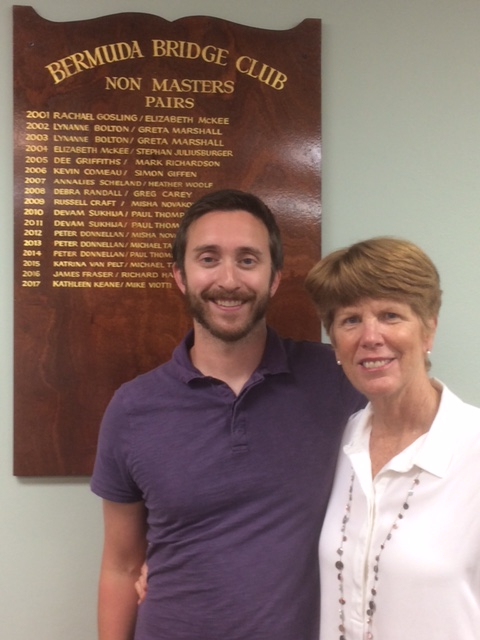 When the dust settled, however, Kathy and Mike had held on to become 2018 champions, with Ellen and Tyler a creditable second fractionally ahead of Ruby Douglas and Delton Outerbridge in third place. Well done all.
Member Guest Afternoon
15 tables of members and their guests are seen here enjoying the event on Monday afternoon 14 May.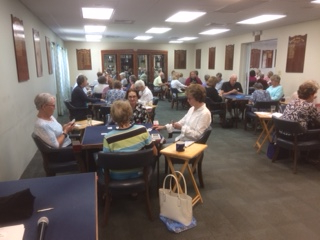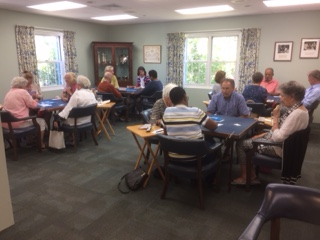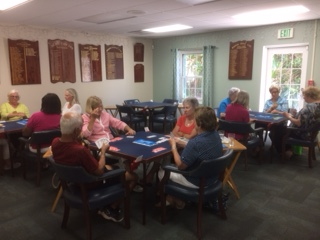 Cake and prosecco at half time added to the social dimension - if not to the concentration of the players!
Mixed Pairs Champions 2018
Congratulations to Gertie Barker and John Burville on becoming our Mixed Pairs Champions for 2018. A hard fought and gruelling 2 session 57 board event tested all participants. Runners up were Molly Taussig and John Glynn just ahead of third placed Elizabeth McKee and Ed Betteto. 20 pairs competed - thanks to Jack for directing and to Diana Diel, whose delicious soup helped sustain the players through a long day.