Upcoming Eventsclick here for Calendar.  541-0551
 2019 Competition Dates - click on "Calendar of Events"
REGIONAL - Saturday 26 January - Friday 1 February 2019
Saturday 9 February - Afternoon Pairs at 2 pm 
Men's & Ladies' Championships - Saturday 23 February 2019
Junior Pairs Championship - Saturday 9 March
Click here for Over 70% Games (Please let us know if you have >70% game)
Welcome to the Bermuda Bridge Club Website
We are a members' club and the principal bridge club on our beautiful island.   We run an open, stratified duplicate game on Monday afternoon and evening, Wednesday morning, Thursday evening and Friday afternoon.
2017 OPEN TEAMS
Congratulations to the team of Jean Johnson, Margie Way, David Sykes, Ed Betteto and Fabian Hupe, winners of the Open Teams title for 2017. A very close contest, with the junior team of Ellen Davidson, John Luebkemann, George Correia and Linda Abend putting in a very strong performance to tie with the team of Jane Smith, Gertie Barker, Rachael Gosling and Simon Giffen for second place, just two victory points off the lead. Nine teams competed, and every team achieved at least one match victory along the way. Well done all.
JUNIOR TEAMS CHAMPIONS 2017
Congratulations to the team of Claude Guay, Sharon Shanahan, Lane Martin and Betsy Baillie, our Junior Teams Champions for 2017. This is one of our smaller two-session competitions, limited to players with less than 100 masterpoints. Five teams entered; in a hard fought competition, each team won at least one of their matches - well done all.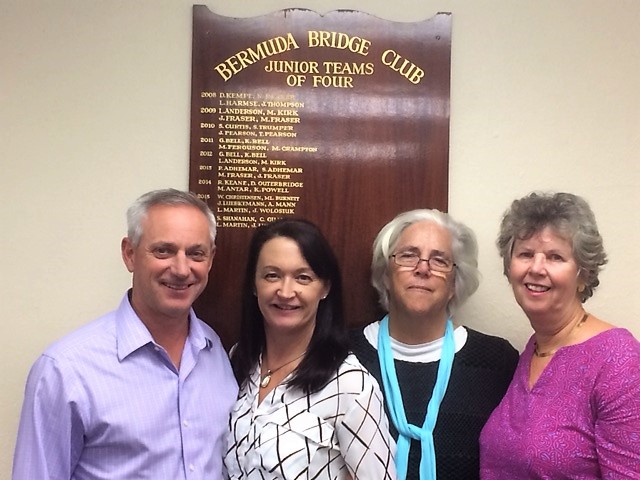 2017 OPEN PAIRS
Congratulations to Alan Douglas and Ed Betteto, winners of the Open Pairs Championship 2017. This two session event held on the morning and afternoon of 4 November attracted a large field of 20 pairs - an encouraging endorsement of the Club's decision to hold the event on a Saturday. John Burville and David Cordon were runners up, and Julia Beach and Pat Siddle were third. Well done all.