Upcoming Eventsclick here for Calendar.  541-0551
2019 Competition Dates - click on "Calendar of Events"
FRIDAY 24 MAY - BERMUDA DAY - NO GAME
Intermediate Lessons with Alan - to be continued after his return from CACBF
Summer Party - Saturday July 13th 6.30pm
Click here for Over 70% Games (Please let us know if you have >70% game)
Welcome to the Bermuda Bridge Club Website
We are a members' club and the principal bridge club on our beautiful island.   We run an open, stratified duplicate game on Monday afternoon, Wednesday morning, Thursday evening and Friday afternoon.
2017 OPEN PAIRS
Congratulations to Alan Douglas and Ed Betteto, winners of the Open Pairs Championship 2017. This two session event held on the morning and afternoon of 4 November attracted a large field of 20 pairs - an encouraging endorsement of the Club's decision to hold the event on a Saturday. John Burville and David Cordon were runners up, and Julia Beach and Pat Siddle were third. Well done all.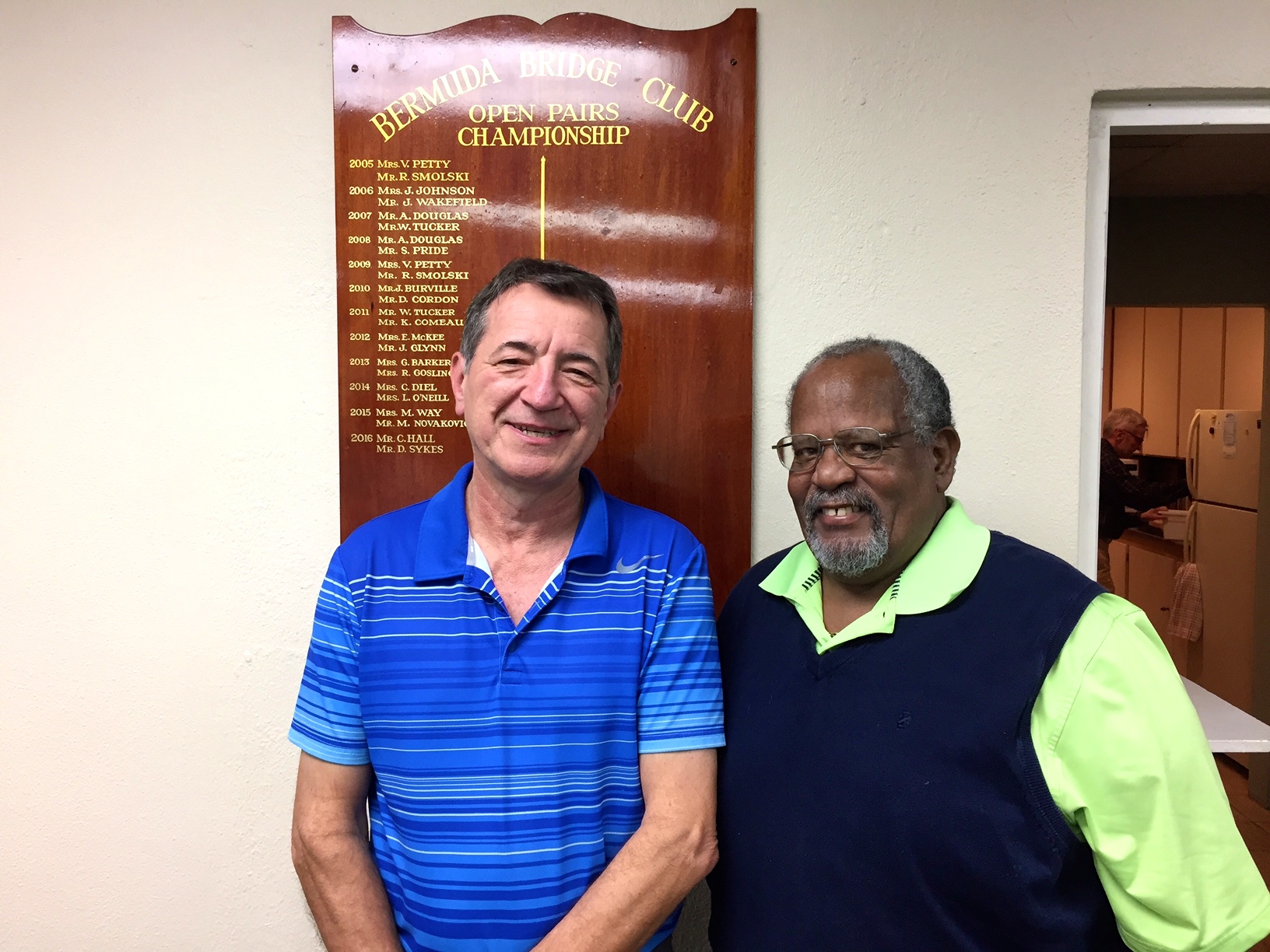 2017 Sectional Prizewinners
Congratulations to all the prizewinners at the 2017 Sectional: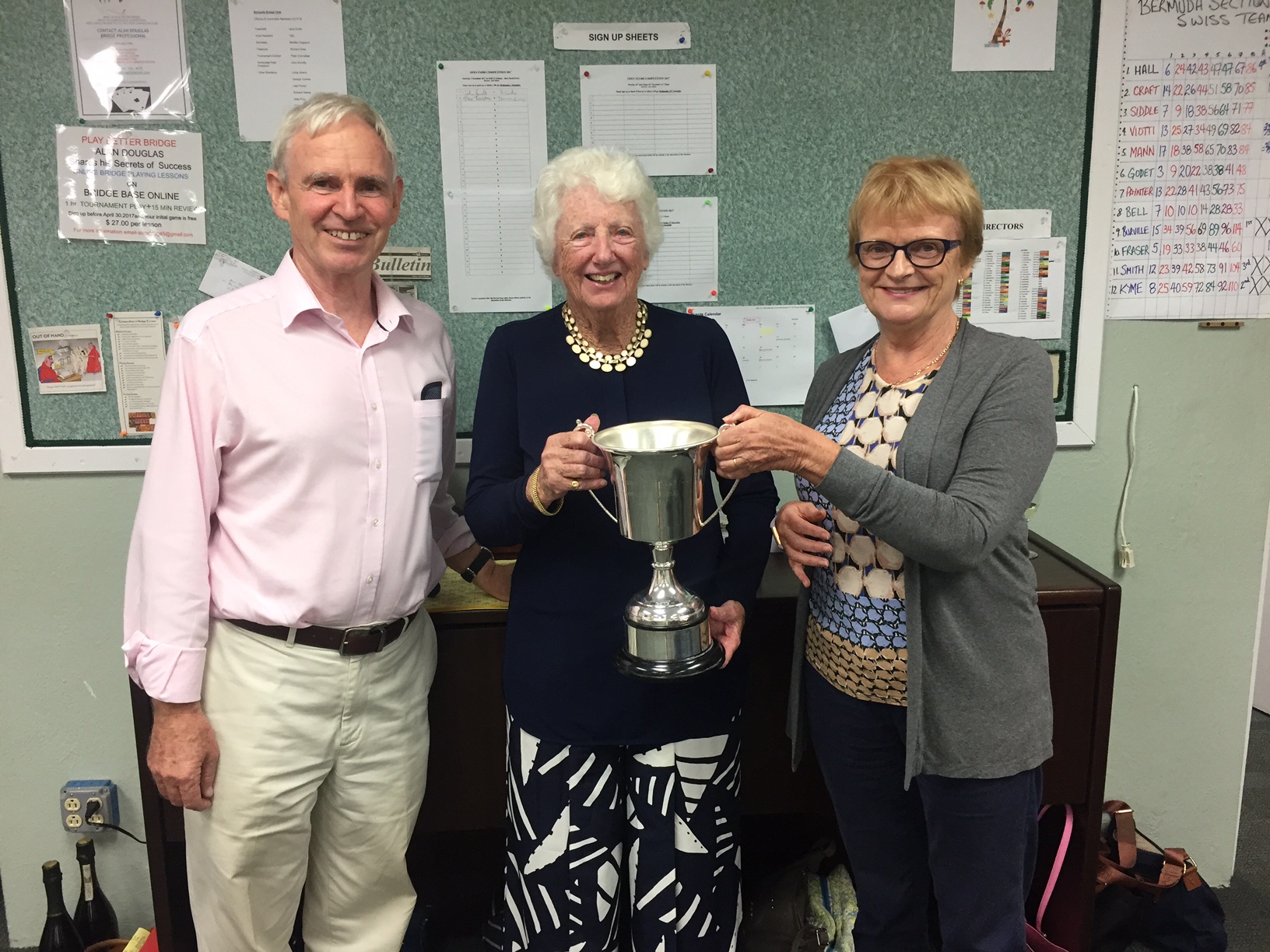 Diana Diel receives The Robert Todd Trophy for the most masterpoints earned in the Sectional.
Friday Afternoon and Monday Afternoon combined:
A: Tony Saunders and Jean Johnson
B and C: George Correia
99er: Pat and Barbara Cerra
Friday Evening and Monday Evening combined:
A: Elizabeth McKee and Diana Diel
B: Judy King
C: Martha Ferguson
99er : John Luebkermann
Saturday games combined:
A: Diana Diel
B: Lynanne Bolton and Peter Donnellan
C: Kathy Keane and Donna Leitch
99er: Michael and Heather Farrugia
Sunday Teams:
A: John Burville, David Cordon, Jean Johnson, Julia Lunn
B: Julia Beach, Lynanne Bolton, Russ Craft, Peter Donnellan
C: Pat Cerra, Jaime and Marsha Fraser, Richard Hall
2017 Player of the Year
To check out the latest standings in the 2017 Player of the Year, for Senior, Junior and Daytime as at 6th September 2017 go to the Competitions Tab menu of the website
Results - Toronto Youth NABC 2017
The Youth Tournament started on Thursday 27th July. During the tournament, the students played in Pairs and Teams session with all students getting a good feel for playing bridge at an international tournament. A great result for us is any pair getting close to or above 50%. Special mention goes to Zahra for showing great sportsmanship when she allowed a young player to take back a revoke, and that cost her and her partner getting 2nd in her section, and 1st in B in the section! Well done Zahra!!
Our special results were:
Session 1: Thursday 27th July - Morning - Youth Pairs:
Amaury Majors and Mical Hardtman 51.52% 3rd in A and B, and 2nd in C