Upcoming Eventsclick here for Calendar.  541-0551
2019 Competition Dates - click on "Calendar of Events"
FRIDAY 24 MAY - BERMUDA DAY - NO GAME
Intermediate Lessons with Alan - to be continued after his return from CACBF
Summer Party - Saturday July 13th 6.30pm
Click here for Over 70% Games (Please let us know if you have >70% game)
Welcome to the Bermuda Bridge Club Website
We are a members' club and the principal bridge club on our beautiful island.   We run an open, stratified duplicate game on Monday afternoon, Wednesday morning, Thursday evening and Friday afternoon.
2018 Open Pairs Champions
Congratulations to our new Open Pairs Champions, Molly Taussig and John Glynn. A 10 table field battled it out over 57 boards all day on Saturday 3 November. Coming in a close seoond were Fabian Hupe and David Sykes, while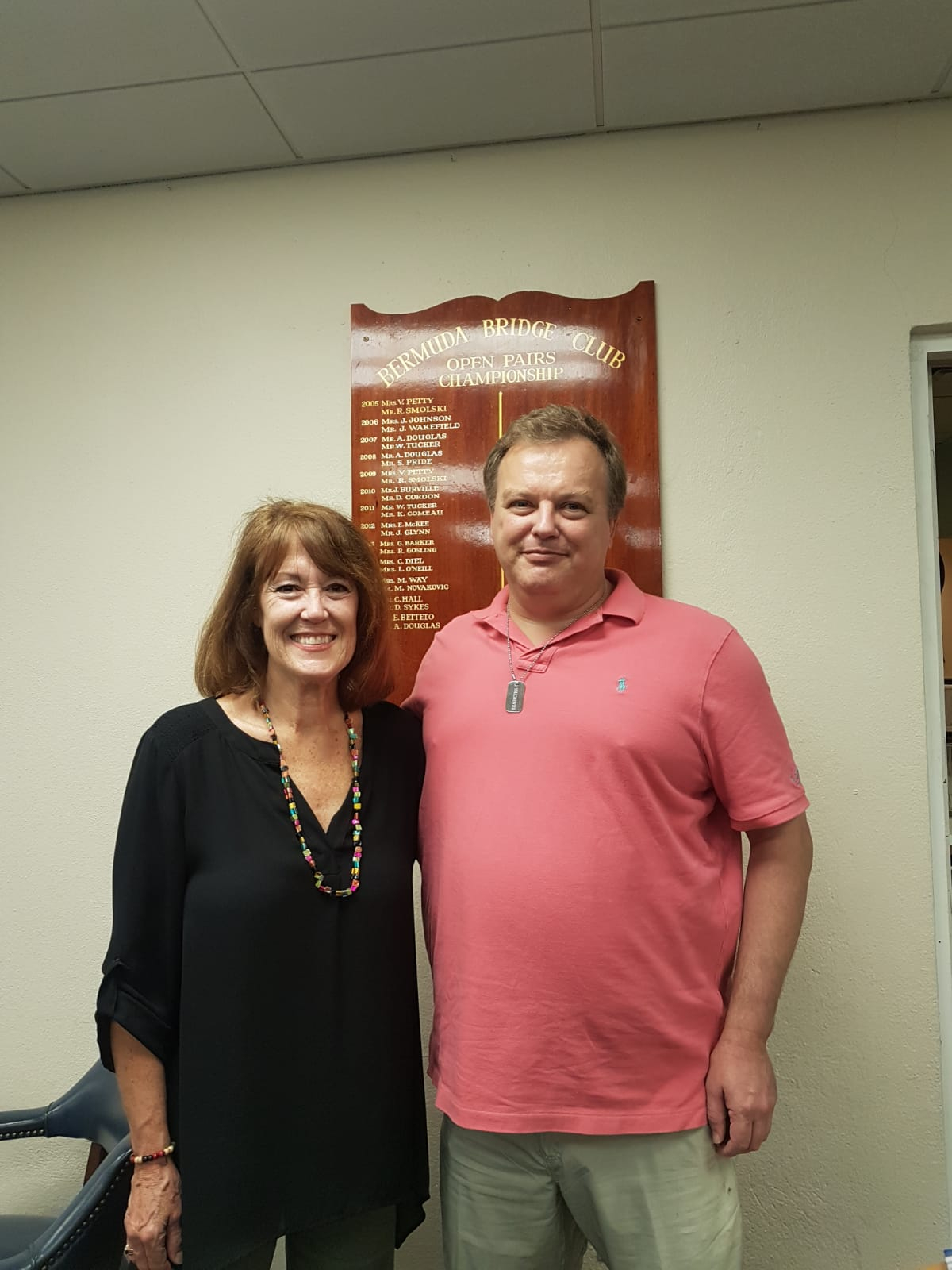 Diana DIel celebrated her birthday taking third place with her partner Elizabeth McKee. First in Strat
B with a strong performance in a challenging field were Jane Clipper and Mike Tait.
A pleasant day of championship bridge for all, with lunch livened up by Diana's much appreciated and tasty soup.
Well done one and all!
2018 Bermuda Sectional
The Bermuda sectional took place on Friday 12th to Monday 15th October, with over one hundred tables of bridge played over the four days - more than an average of 12 tables per session.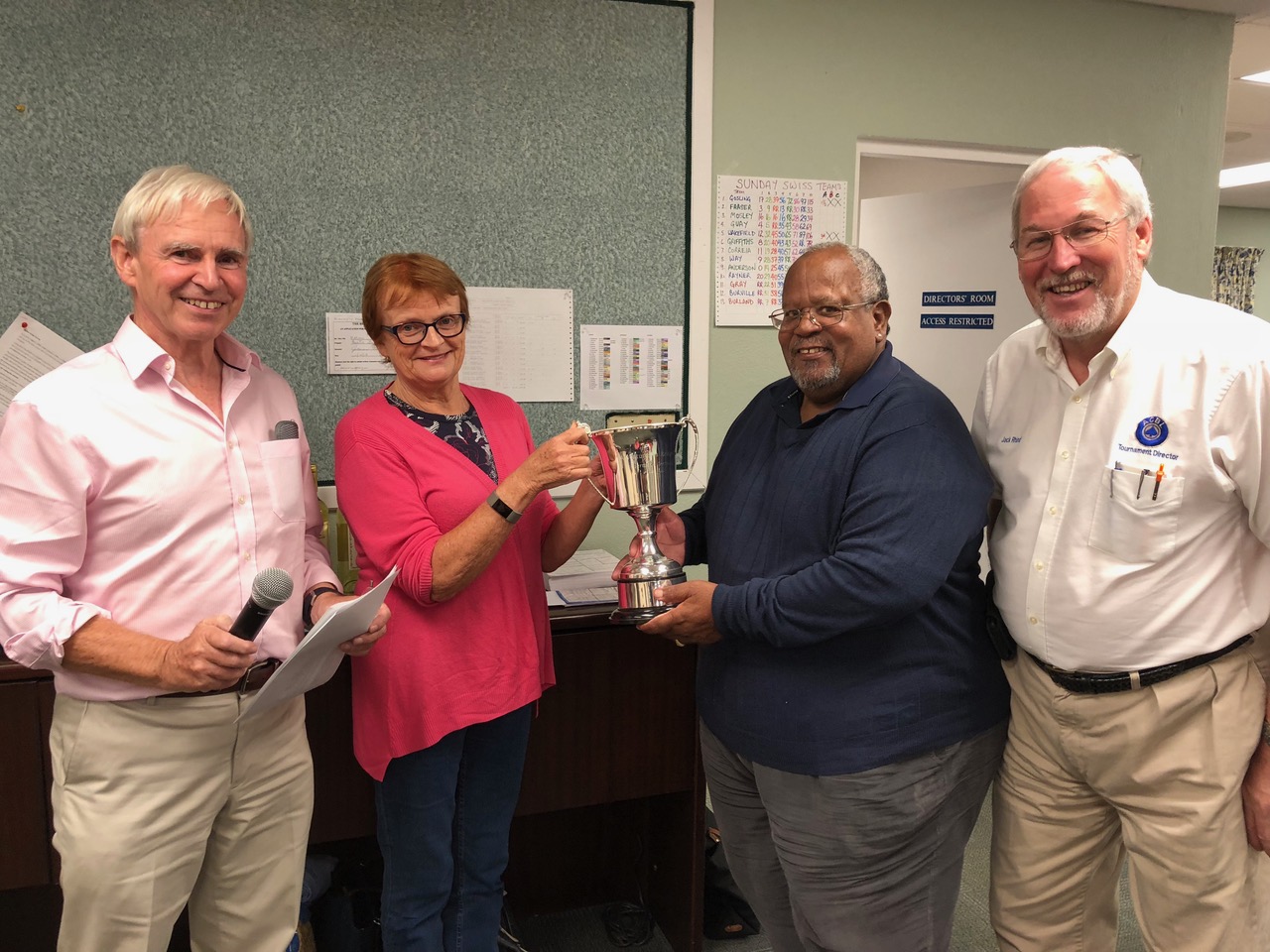 Some 80 players won silver points - Alan Douglas (above) won the Robert Todd trophy for the most masterpoints (21); Richard and Wendy Gray tied as leaders of the masterpoint race in Strat B, and Ellen Davidson led Strat C. Well done all.
Play of the Year Update
Senior Player of the year
| | | | | | | | | | |
| --- | --- | --- | --- | --- | --- | --- | --- | --- | --- |
| Names | Jan | Feb | Mar | Apr | May | Jun | Jul | Aug | Total |
| Margaret Way | 2.75 | 5.33 | 3.31 | 1.67 | 6.63 | 0.91 | 2.51 | 1.8 | 24.91 |
| Jane Smith | 4.44 | 2.56 | 1.96 | 3.43 | 5.72 | 2.65 | 0.9 | 1.66 | 23.32 |
| Alan Douglas | 3.65 | 4.91 | 2.56 | 3.57 | 5.31 | 2.38 | | | 22.38 |
| Gertrude Barker | 2.7 | 0.86 | 1.96 | 6.87 | 4.13 | 1.54 | 1.3 | 1.66 | 21.02 |
| Elizabeth McKee | 2.45 | 2.68 | 2.11 | 4.39 | 4.85 | 1.79 | 1.49 | 0.9 | 20.66 |
| Edward Betteto | 2.7 | | 2.84 | 5.8 | 5.98 | 3.02 | | | 20.34 |
| Diana Diel | 0.18 | 3.17 | 1.81 | 4.39 | 3.28 | 2.23 | 2.72 | 1.25 | 19.03 |
| Rachael Gosling | 2.1 | 3.55 | 1.82 | 3.46 | 3.45 | 1.7 | 0.7 | 1.78 | 18.56 |
| David Sykes | 4.5 | 4.75 | 1.88 | 2.09 | 0.56 | 2.01 | 0.8 | 0.9 | 17.49 |
| John Glynn | 2.05 | 1.6 | 0.63 | 5.64 | 2.55 | 0.64 | 1.3 | 1.33 | 15.74 |
Day Player of the year
| | | | | | | | | | |
| --- | --- | --- | --- | --- | --- | --- | --- | --- | --- |
| Names | Jan | Feb | Mar | Apr | May | Jun | Jul | Aug | Total |
| Molly Taussig | 3.91 | 4.76 | 7.74 | 7.54 | 9.08 | 7.59 | 5.12 | 4.36 | 50.1 |
| Diana Diel | 4.85 | 4.75 | 6.54 | 5.69 | 4.69 | 4.23 | 6.41 | 4.37 | 41.53 |
| Gertrude Barker | 4.39 | 3.19 | 4.68 | 3.5 | 6.11 | 4.38 | 4.43 | 6.46 | 37.14 |
| Joseph Wakefield | 4.68 | 4.39 | 6.49 | 4.05 | 3.84 | 5.07 | 4.75 | 3.03 | 36.3 |
| Elizabeth McKee | 4.95 | 5.39 | 5.78 | 3.28 | 4.99 | 4.22 | 4.76 | 1.46 | 34.83 |
| Jane Smith | 4.22 | 2.26 | 3.78 | 6.16 | 5.75 | 6.33 | 0.56 | 4.47 | 33.53 |
| Magda Farag | 2.46 | 4.98 | 2.8 | 1.26 | 6.61 | 6.36 | 3.25 | 5.12 | 32.84 |
| Sheena Rayner | 1.56 | 2.58 | 4.57 | 2.07 | 5.91 | 4.84 | 4.23 | 5.14 | 30.9 |
| Alan Douglas | 3 | 2.39 | 6.9 | 3.93 | 5.01 | 5.49 | 0.8 | 3.28 | 30.8 |
| Stephanie Kyme | 4.94 | 3.57 | 4.99 | 4.04 | 4.39 | 3.65 | 3.25 | 1.57 | 30.4 |
Junior Player of the Year
| | | | | | | | | | |
| --- | --- | --- | --- | --- | --- | --- | --- | --- | --- |
| Names | Jan | Feb | Mar | Apr | May | Jun | Jul | Aug | Total |
| Nick Kempe | 0.14 | 0.9 | 0.14 | 0.65 | 0.97 | 1.13 | 1.6 | 1.12 | 6.65 |
| Samantha Pickering | 0.14 | 0.9 | 0.14 | 0.65 | 0.97 | 1.13 | 1.6 | 1.12 | 6.65 |
| HeatherFarrugia | 0.54 | 1.03 | 0.92 | | 0.55 | 0.42 | 1.02 | 0.78 | 5.26 |
| MichaelFarrugia | 0.54 | 1.03 | 0.92 | | 0.55 | 0.42 | 1.02 | 0.78 | 5.26 |
| SarahLorimerTurner | 0.24 | 0.36 | 0.66 | 1.02 | 0.91 | 0.46 | 0.68 | 0.55 | 4.88 |
| Diana Downs | | 0.36 | 0.78 | 0.53 | | 0.46 | 0.68 | 0.55 | 3.36 |
| Nikki Boyce | 0.84 | | 1.3 | 0.3 | | | 0.46 | | 2.9 |
| Carol Eastham | 0.84 | | 1.3 | 0.3 | | | 0.46 | | 2.9 |
| Gina Graham | 0.44 | | | 0.25 | 1.53 | 0.3 | | | 2.52 |
| Felicity Lunn | 0.44 | | | 0.25 | 1.53 | 0.3 | | | 2.52 |
Happy 90th Birthday Bea
On Monday 27th January, the players enjoyed some bubbly and cake to celebrate Bea William's 90th Birthday