Upcoming Eventsclick here for Calendar.  541-0551
2019 Competition Dates - click on "Calendar of Events"
GOOD FRIDAY 19 APRIL - NO GAME
Intermediate Lessons with Alan - May 1st and May 15th 7pm (please sign up on notice board)
STaC week - 6-12 May - All games Silver Points
NON LIFE MASTERS CHAMPIONSHIP - Saturday 18 May at 10.00  - Two sessions
Click here for Over 70% Games (Please let us know if you have >70% game)
Welcome to the Bermuda Bridge Club Website
We are a members' club and the principal bridge club on our beautiful island.   We run an open, stratified duplicate game on Monday afternoon, Wednesday morning, Thursday evening and Friday afternoon.
Junior Teams 2016
Congratulations to the team of Lane Martin, John Luebkermann, Sharon Shanahan and Claude Guay for winning the 2016 Junior Teams Championship. Four teams took part over the two sessions - the winners started with a bang with their first match and then led the field​ for the rest of the competition​. Well done to them and to all competitors for a pleasant and friendly event.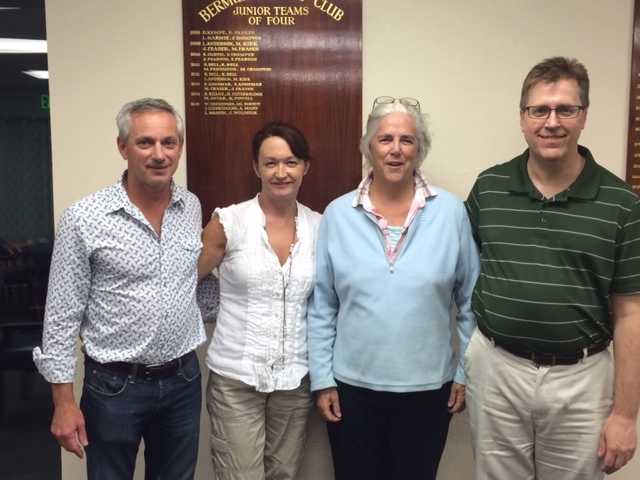 Open Pairs 2016
Congratulations to David Sykes and Charles Hall on winning the Open Pairs title for 2016 with a 61.5% game, just ahead of first round leaders John Burville and David Cordon who closed out at 60%.