Upcoming Events.  541-0551
25-31 January - The Bermuda Regional - Club closed
Saturday 22 February - Men's/Ladies' Pairs
Saturday 7 March - Junior Pairs (<100MPs)
Congratulations to those with 70% games - click here
For the full year Competitions calendar - click here
Welcome to the Bermuda Bridge Club Website
We are a members' club and the principal bridge club on our beautiful island.   We run an open, stratified duplicate game on Monday afternoon, Wednesday morning, Thursday evening and Friday afternoon.
2016 Youth Team Championships in Italy
Saltus Grammar School said that its school has "made history as Bermuda's first ever youth team to attend a bridge world championship."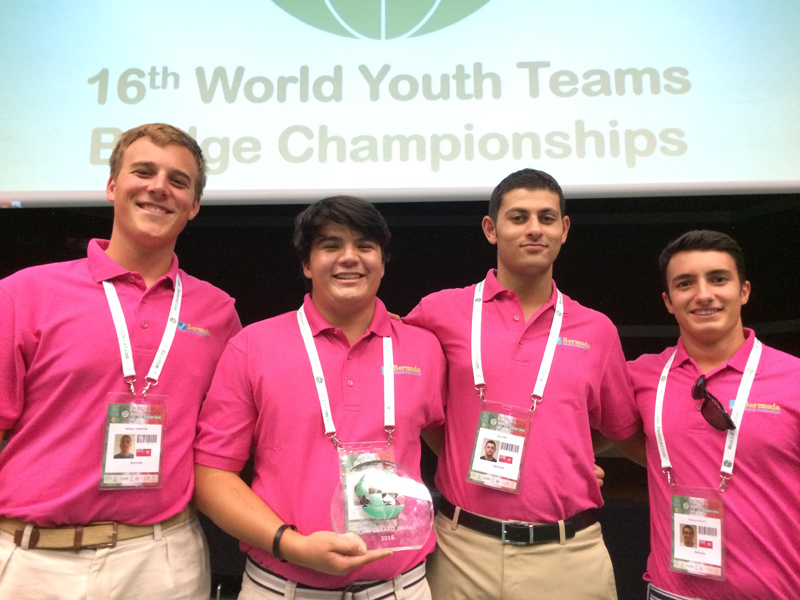 Liam Peniston, Ruskin Cave, Tyler Irby and Gianluca Cacace. Photo by Michael Viotti
Michael Viotti, a physics teacher at Saltus, led a team of four students to the World Bridge Federation's Youth Team Championships in Salsomaggiore Terme, Italy from August 3 to 13. The team included recent Saltus graduates: Tyler Irby, Gianluca Cacace, Liam Peniston and Ruskin Cave. John Burville, a seasoned international player from Bermuda, also attended as the team's non-playing captain.
Summer Party at Rosie's
Junior Pairs Champions 2016
Congratulations to Richard Keane and David Pickering,
who put together a tremendous second session 75% to overtake Delton Outerbridge and Mary-Leigh Burnett, first session leaders, and win the title by just 4 matchpoints. Not far behind were Kathy Keane and Mike Viotti in third. 16 pairs competed in a hard-fought match. Well done all.
Ladies' and Mens' Pairs 2016
Our first club championship for 2016 was contested on Monday 22 & Friday 26 February. 14 pairs competed in the Ladies' competition, with Gertie Barker & Jane Smith triumphing in a close fought event. On their heels were were Jean Johnson & Dorry Lusher, with Lyn O'Neill & Diana Diel finishing 3rd.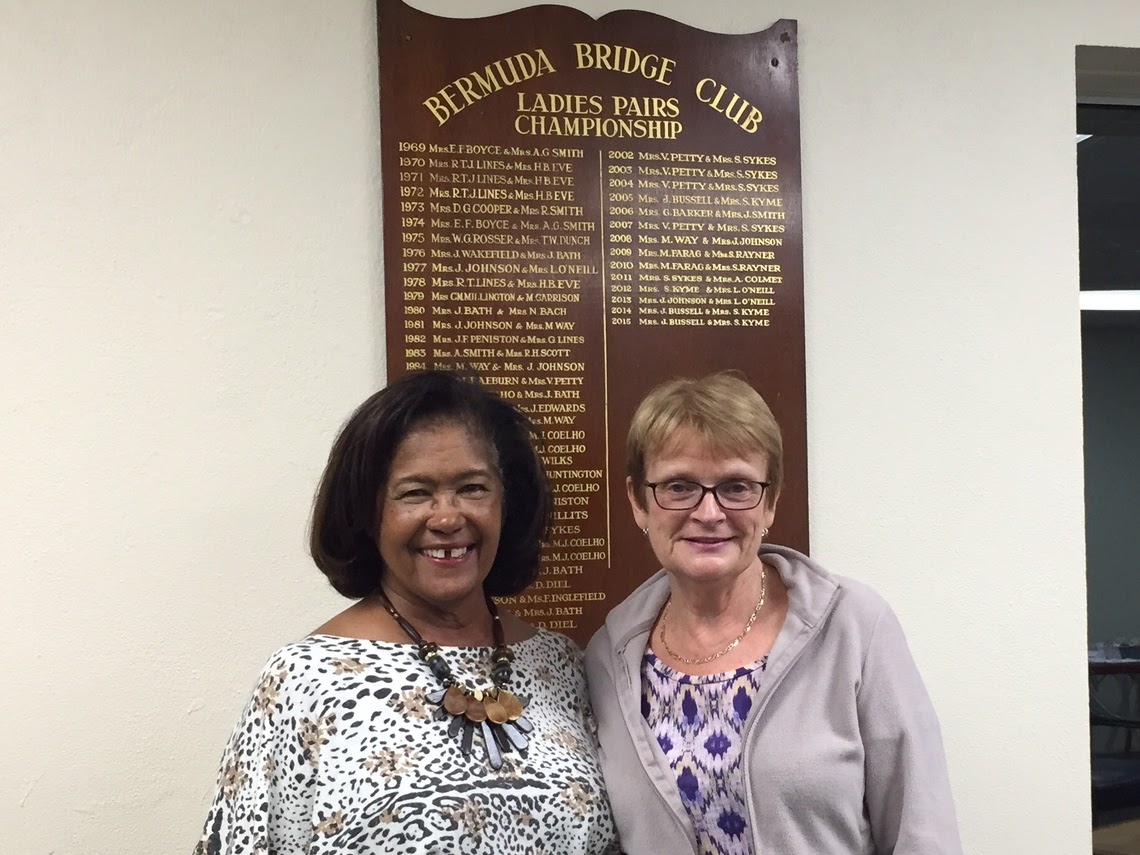 In the Men's section, the champions, for the third year running, were Alan Douglas & Eddie Kyme, who built on a successful first session with a solid second one to take the honours. In joint second place were David Sykes & Tony Saunders, together with a pair of our more junior players, Mike Viotti & George Correia, who actually won the second session. 7 pairs participated.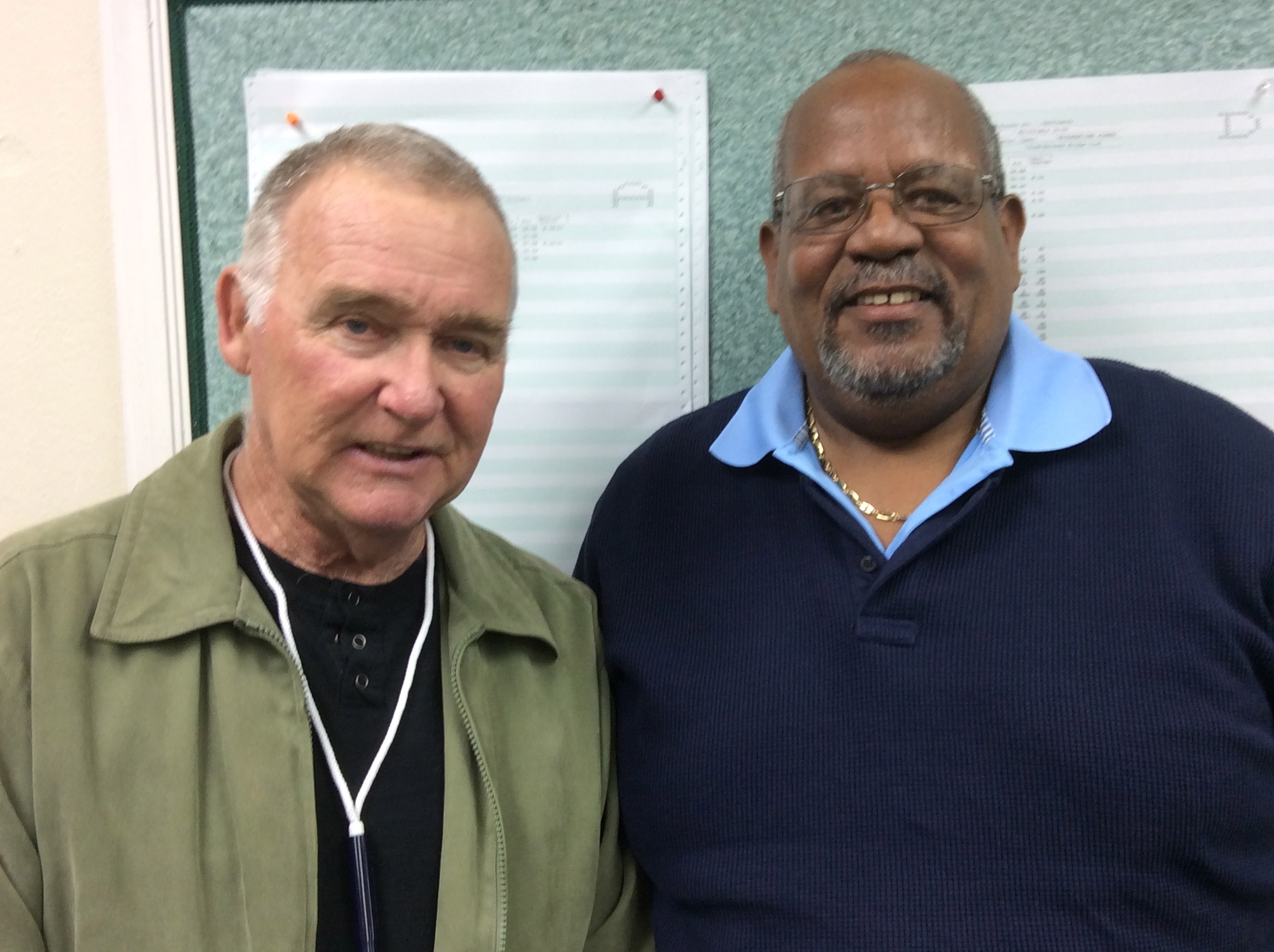 Congratulations to all.